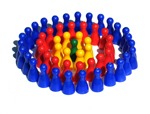 Membership is open to Traveller Women and Traveller Women's organisations who subscribe to the aims and objectives of the organisation.
As a member you can participate in:
Issue Based Workshops – Over the course of the year we organise and run issue based workshops to offer opportunities for Traveller Women and Traveller organisations to come together and discuss issues which affect them.
Annual Forum Day – Every year we host the AFD, a national event aimed at bringing together Traveller women in both a work and social setting.
Annual General Meeting (AGM)
Strategic Planning and review of the organisation
Put forward a nomination to become a member of the NTWF Board of Management at the AGM
As a member you can receive:
Free publications and resources to support your work
Information on key developments affecting Traveller Women
Training on a range of key issues
How to join the NTWF?
Complete and send to us.  You can download the membership application form here.
---